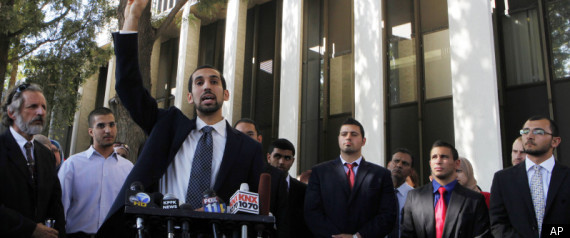 The conviction of the Irvine 11 is a testament to the degree that Islamophobia has grown in the West. Moreover, it is a testament to how unwilling the United States has become to question its relationship with Israel.
Sanah Yassin, The Electronic Intifada, 26 September 2011
For centuries, the philosophy behind higher education has encouraged both students and professors to freely exchange ideas and embark on a quest for truth and a better understanding of the world. Historically, movements which have brought about greater social justice have been grounded in college campuses. Protesting the speeches of Israeli diplomats and political leaders likeMichael Oren and Ehud Olmert serve as two more additions to America's rich history of campus protest.
This philosophy, however, seems to be withering away in American universities, where a student's ability to express herself or himself, and a professor's right to academic freedom, have at times been ferociously attacked.
This is exemplified most clearly with regard to speech and expression about Palestine, whether it be professors and students facing backlash for speaking on the displacement of more than 750,000 Palestinians during the Nakba (the wave of ethnic cleansing ahead of Israel's foundation in the late 1940s); universities and other fora refusing to host conferences or events centered around Palestine, due to pressure from Zionist lobby groups; the retaliation that many have been subjected to after comparing Israel to apartheid-era South Africa; academic departments opting out of hosting events which offer the Palestinian narrative or denounce Israel's illegal and immoral conduct; and cases (which go unreported out of fear of academic consequences) in which university professors either advise against or refuse to accept papers written from the Palestinian perspective.
Criminalizing dissent
As was true during the McCarthy era and that of the civil rights movement, it is becoming increasingly clear that the freedom of speech guaranteed by the first amendment may no longer apply to those fighting for social justice and civil rights. Like the communists and African-American leaders of those eras, Arab and Muslim activists in the West have been approached with an increasing sense of distrust and fear.
The conviction of the Irvine 11 is a testament to the degree that Islamophobia has grown in the West. Moreover, it is a testament to how unwilling the United States has become to question its relationship with Israel. Any means can be used to silence such questioning — even the criminalization of free speech.
The Israel lobby and the US government are working hand-in-hand against efforts to raise awareness about the occupation and human rights abuses perpetrated against the Palestinians. This trial, the FBI raids on Palestine solidarity activists in the Midwest and the undermining of the UN Palestinian statehood bid show it.
What are the implications of the conviction of the Irvine 11 for Palestine solidarity student activists? One can only imagine the worries that now must run through the minds of these young students: Will I be seen as a criminal? Will the Israeli authorities deny me entry to Palestine next year due to my activism, when a cursory Google search can easily show that connection? Am I jeopardizing my future job opportunities as a result of my activism? Am I being, or am I going to be, investigated or targeted by the FBI?
One must keep in mind that these students now living in fear are Americans. Their intentions and passion for social justice is an American value. Yet student activists are now vulnerable to being criminalized This fear of criminalization may even echo into social justice movements which have yet to form, so essentially what the Irvine 11 conviction represents is a campaign to instill fear in anyone seeking to challenge the status quo in American politics.
When I served as president of the Students for Justice in Palestine chapter at the University of Illinois at Chicago, I had the fortunate opportunity to be one of the 25 or so persons who protested Ehud Olmert's speech at the University of Chicago on 15 October 2009. As we thought about and then carried out the protest, we realized that what we were doing was monumental. We likened our protest to the marches and sit-ins in the 1960s, and felt honored to be able to give a voice to the thousands of people whose voices were stolen at the command of this man.
It could have been me
The feelings and reasoning behind our protest in Chicago are echoed in thestatements from the Irvine 11 given after their conviction and sentencing. For me, and other students who have protested in a similar manner, this case is much closer to the heart; the events at the University of Chicago initiated this style of protest, and our actions and motives are no different from those of the Irvine 11. I could have been in the same position, sitting in a court room as a defendant. The level of injustice that Orange County has subjected these youth to is disturbing. This style of protest has since been repeated on a plethora of other campuses and fora nationwide and beyond. None of those protests were deemed illegal, and none of them resulted in protesters on trial.
And now members and alumni of SJP chapters nationwide are organizing, andholding a national conference at Columbia University in less than a month. Rather than giving in to the difficulties posed and obvious attempts to stifle and silence the Palestinian narrative, we are now organizing and connecting more than ever before, making our activism more visible, and voicing our support for the Irvine 11.
The justice system in the US seems to be constructing a strategic precedent with regard to their preferred legal approach to Palestinian solidarity speech and actions that seek to raise awareness of the injustices committed by the Israeli government. The stakes are higher, the consequences apparent, and though we realize that, we will push on, recognizing the importance and the need for the work we do.
Our actions are legal, our motivations moral and our goal is to support greater justice and human rights. The Irvine 11 have only strengthened our resolve, and for that, they are our heroes.
Sanah Yassin serves on the board of recently-established Coalition for Palestinian Rights, based in Chicago, and testified during the Irvine 11 trial. She is an alumni of the University of Illinois at Chicago, and is an aspiring law student currently teaching high school history.
http://electronicintifada.net/content/why-irvine-11-are-true-american-heroes/10428#.Ton4h91BWmQ